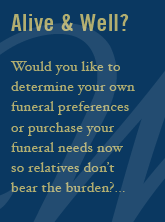 Personalization
Wilbert offers multiple ways to personalize a burial vault or urn vault with words, symbols, and images that speak of a singular spirit. Your loved one had a unique personality. The selections you make for the visitation and service should communicate that singular spirit. These choices ensure your loved one's memory is remembered for generations to come.
Akron Concrete Products, Inc. offers two sizes of containment vessels. The smaller size, a 550 gallon tank, can hold up to 850 gallons of liquid, while the larger size, 1100 gallons, holds up to 1500 gallons of liquid.

In both tanks, we provide a siphon arrangement mounted on the wall of the vessel, which allows for removal of rain water or recovery of spilled or leaked products. In the event that a siphon is not desired, we also offer the option of a two inch drain hole.

Additionally, the concrete in both our small and large tanks is air-entrained and has a minimum of 4,500 psi compressive strength when delivered. Compressive strengths of over 7,000 psi are common in our vessels after thirty (30) days. The reinforcing steel is Grade 40, No.4 bars on 12" centers each way. This reinforcing is designed for the dynamic forces that exist when transporting these units, which far exceed those forces experienced on site.

Theses containment vessels meet a variety of needs for many homes, farms, and businesses. With the new EPA mandates going into effect in November 2011, containment vessels are required for many farms and business operations. Please call or email today to discover how Akron Concrete can assist you with your own individual needs.