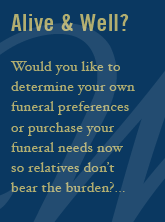 Personalization
Wilbert offers multiple ways to personalize a burial vault or urn vault with words, symbols, and images that speak of a singular spirit. Your loved one had a unique personality. The selections you make for the visitation and service should communicate that singular spirit. These choices ensure your loved one's memory is remembered for generations to come.
Akron Concrete Products, Inc. is a proud manufacturer and installer of Bilco® PermEntry® complete basement entrances. Whether you would like a PermEntry system for your new or existing home, you will enjoy the benefits of convenient direct basement access, building code compliance for emergency egress (IRC 2009), and added sales appeal for your home.

The PermEntry system adds value by giving homeowners access directly from the basement to the outdoors. This opens up your basement to a number of opportunities which include external basement exit in case of emergency, ability to move large furniture and appliances easily through the basement, and a basement as convenient and easy to use as other rooms in the home.

In addition to the benefits listed above, you will receive the peace of mind of acquiring a professional installation by a certified dealer. Please call or email us today to learn more about what a PermEntry system can do for you and your home.