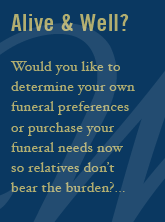 Personalization
Wilbert offers multiple ways to personalize a burial vault or urn vault with words, symbols, and images that speak of a singular spirit. Your loved one had a unique personality. The selections you make for the visitation and service should communicate that singular spirit. These choices ensure your loved one's memory is remembered for generations to come.
Akron Concrete Products, Inc. offers storm shelters to provide groups and individuals protection from hazardous weather. Whether it be businesses with no place for employees to go or homeowners with no basement or crawl space, storm shelters can give you peace of mind when severe weather hits.
These concrete shelters measure 8'X7'X8' and are installed to provide easy access via Bilco® steel doors. Additionally, concrete steps (our Bilco® Perm Entry system) make it easy for individuals to enter the underground unit.
Where aesthetics are concerned, we also offer a few different finishes, from a plain concrete exterior to more visually pleasing options which include sheet metal and concrete pavers. We pride ourselves on accommodating our customer's differing needs and desires, so feel free to contact us with any questions you may have.